Laminate Floor Installation
Want the high-end look of wood flooring, but don't like the high price tag of hardwood floors? Wish you could afford natural stone flooring? If you're interested in the appearance of stone, ceramic tile, or wood floors but need a more budget-minded flooring option, then you should consider putting in a laminate floor. Providing you all the same great looks as hardwood or tile floors but without the large price, laminate flooring is a cost-effective answer for beauty and resiliency.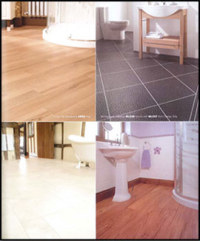 Whether you've been looking for a wood laminate floor all along or you've just learned about the cost-saving potential of laminate tile, National Carpet Outlet can help. We provide sales and installation on a huge variety of flooring materials, including quality laminate floors, and we can help you decide if a laminate install is right for your home. Just a few of the benefits of wood or tile laminate include low price (as we've already mentioned), extreme durability and crack-resistance, water-resistant performance, and long life span. National Carpet Outlet even offers styles from wood laminate to stone-look tiles, so we can help you select the option that's ideal for your aesthetic preferences as well as your performance needs.
Providing full-service laminate flooring installation, National Carpet Outlet begins by removing your old flooring (if necessary) and hauling it away. However, with laminate floor installs, in most cases, the new flooring can go down right on top of the old floor, making the installation process even faster and more efficient. Laminate floating floors cannot be laid atop carpeting, though, so if you have old carpet that needs to be removed before we put your new floor in, just leave it to our pros.
Remember, when it comes to installing laminate floors, you need to make sure it's done right. In the vast majority of cases, your new laminate flooring won't actually be glued or nailed to the subflooring: each tile or plank will be attached to the surrounding laminate rather than affixed to the underlying floor itself. This makes for fast installation and quick removal if you ever need to replace your floor, but it also means that you have to make certain each tile or plank is truly secured to the adjoining tiles or planks—otherwise your floor may fall apart! The great news is that National Carpet Outlet's flooring contractors have over two decades of experience putting in all types of floor materials. We have the hands-on expertise to safely handle both plank and laminate tile installation, and we take the time to get the job done properly. Don't sacrifice your floors' longevity, beauty, or functionality by hiring a laminate installation company that cuts corners. Call National Carpet Outlet today for laminate done right!
laminate installation
install laminate wood flooring
laminate floor installation
wood laminate installation