Hardwood Floor Installation
Natural, lustrous, elegant: Hardwood flooring is a beautiful addition to practically any home or business. Versatile enough to work in kitchens, living rooms, and bedrooms alike, hardwood floors installation offers no-nonsense benefits like easy maintenance, aesthetic beauty, and even increased property value. Timeless and practical, wood flooring is a smart choice whether you're building a new home or replacing an existing floor.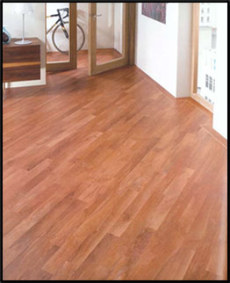 At National Carpet Outlet, we're pleased to offer a wide selection of options when it comes to your hardwood installation. We put in both prefinished and site-finished wood floors, and with a diverse collection of wood varieties and stain colors available, we're sure to have an option that's right for your wood flooring installation. Our hardwood floor installers can talk you through our different wood floor materials and provide the guidance you need to find the best products for your specific needs, so don't be overwhelmed by our vast selection. To get your free estimate or to learn more about our wood flooring company, call or contact us by e-mail now.
Working on properties throughout the Syracuse region, our hardwood flooring company installs wood floors in both businesses and homes, and we're happy to work on both new construction and existing buildings. National Carpet Outlet combines sales and installation under one roof to help make your hardwood floors installation convenient and hassle-free!
The first step in any hardwood installation is preparing the subflooring. In existing structures, that means tearing up the old flooring. Unlike many hardwood floor companies, National Carpet Outlet is available to remove your old carpet, lino, or other flooring and haul it away. We're here to provide you with full-service wood floors installation, not leave you scrambling to get that old flooring removed before we arrive! After our wood floor installers have dealt with the old floor, we'll make certain that the subflooring is clean and level. Then, and only then, will our hardwood flooring contractors proceed to lay the planks and install your wood flooring. In the case of site-finished wood floors, the National Carpet Outlet hardwood floor installers will then sand and finish your floor with polyurethane; with prefinished wood flooring, the protective sealant has already been applied, meaning your floors are completely done once the last plank is installed. But no matter which type of wood floors installation you choose, you can count on our professionals to bring you efficient, correct handiwork from start to finish. National Carpet Outlet is the hardwood flooring company that helps you get the quality wood flooring you want at a price that's right for you.
For your convenience, our hardwood flooring contractors also offer floor refinishing services. A great solution for restoring the luster to your old hardwood floors, our wood floor refinishing services can sand away minor imperfections, smooth rough spots, and return a glowing shine to your wood floors. Learn more about hardwood refinishing from the National Carpet Outlet team when you contact us today.
Wood Flooring
Hardwood Floors
Flooring Contractor
Flooring Companies
Floor Installers
Hardwood Installation
Hardwood Flooring
Wood Floors
Flooring Contractors
Flooring Company
Flooring Installer
Hardwood Floor Installer