Carpet Installation
Carpeting is a soft, warm, and attractive flooring material, perfect for adding that little touch of luxury or just keeping bare toes toasty on cold winter mornings. Practical for bedrooms, family rooms, and more, carpet installations are a popular choice for updating or upgrading homes and businesses alike.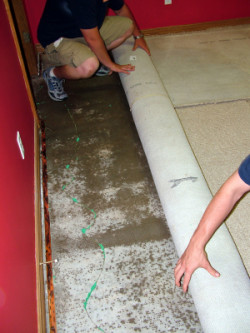 If you're interested in adding carpeting to your living room, commercial office, or other property, National Carpet Outlet is the carpet installer for you. As you may have guessed from our name, we specialize in carpet installation. We work with a wide variety of flooring materials, but carpets are our true specialty. We opened our doors in 1990, and we have more than 20 years of experience helping Syracuse-area homes and businesses get first-class carpet installation at low, warehouse prices. When you're exploring the possibility of having carpet installed in your space, our professionals are available to provide information, support, and superior carpet installation and sales. Get started when you call or send us an e-mail today!
Working with both residential and commercial clients, National Carpet Outlet offers carpet installation for the full spectrum of carpet materials and styles. From Berber carpets to nylon carpets to commercial carpets, we have it all. If you're interested in installing wall-to-wall carpeting, our selection is sure to include a color, style, and material that coordinates with your particular needs. Our carpet installer experts will work with your specifications to help you sort through our huge collection, ultimately matching you with the best carpeting for your budget, lifestyle, and other requirements.
At National Carpet Outlet, we perform new carpet installation in both new and existing buildings. And unlike some carpet companies, we're pleased to be able to offer complete carpet install services: we'll remove and haul away your old flooring, install the carpet padding, and lay the carpeting itself. Full-service carpet installations make for convenient, fast service and the floor of your dreams without the hassle! The carpet installers at National Carpet Outlet work efficiently, but we never cut corners to get the job done faster. Instead, we put our two decades of expertise to work for you. With our specialized knowledge, tools, and hands-on skill, our flooring contractors ensure your carpet is installed right. From properly adhered, invisible seams to securely installed tack strips and more, National Carpet Outlet is the carpet installer to call for exceptional results every time.
Carpet on Wheels
National Carpet Outlet is here to make having carpet installed as stress-free as possible. That's why we're pleased to provide our Syracuse-area customers with in-home sales and installation service. Our Carpet on Wheels mobile division is available to come right to your house. We can show you carpet samples, take measurements, and discuss different carpeting products with you to help you find the ideal plush, textured, or Berber carpet for your home. Our carpet installers even offer free estimates! We bring our floors to your door for the utmost in convenience and customer service. If you're ready to learn more about carpet installation for your home, give us a call. We'll schedule your in-home carpet installation and sales appointment now!
carpet installer
carpet installed
carpet installation
carpet installers